Hair loss has plagued mankind for hundreds and thousands of years, however it's only been the last few hundred years that it has become an important issue for many men in the modern world. There have been many theories as to the causes of hair loss, but the most predominant one, is that male pattern baldness is caused by an overabundance of a hormone called DHT. This hormone resides in the blood near your scalp and is detrimental to the growth of healthy hair. However, one important way that you can combat hair loss is by maintaining a diet with a variety of vitamins and minerals to help support healthy hair growth, in order to hold on to every last hair follicle you're entitled to. So, let's take a look at a few specific vitamins that are known to influence hair loss and hair health.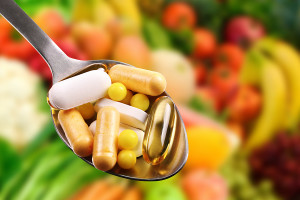 Vitamin A is a strong antioxidant which encourages your body to increase the production of sebum, and sebum is the body's natural oil that allows the retention of moisture in your hair thereby reducing dryness. The problem with dry hair is that it is easily broken and then takes a long time to regrow, of course by keeping your hair moist it remains flexible and is harder to break. All this makes vitamin A an important ingredient for maintaining healthy hair. Vitamin A can be found in milk, eggs, cheese, meats, and carrots.
Vitamin C is also a strong antioxidant which also is important in the manufacture of collagen in your body. Your body uses collagen as part of the structural fiber when it makes hair, plus it is an important factor in maintaining the health of your arteries, skin and keeping a youthful, full, unwrinkled look to your face as well. Vitamin C can be found in many citrus fruits, dark green vegetables, and the skin of potatoes.
Vitamin E is important for the building and growth of the small capillaries that bring the important nutrients and vitamins to the hair follicles. Any hair follicle that isn't receiving the proper nutrition via the blood capillaries will either die or grow very slowly, so vitamin E is very essential in helping stop hair loss. An additional benefit of vitamin E is in helping prevent split ends. Vitamin E is typically found in cooking oils, nuts, beans, and green vegetables.
Vitamin B. Niacin B3 is important for the circulation of blood in the scalp and can be found in fish, chicken and other meats. Vitamin B6 is a hair loss preventative that can be found in whole grains, eggs, meats and vegetables. Vitamin B5, is also a hair loss preventative found in eggs, meats, and whole grains. Vitamin B12 is yet another hair loss preventative also found in fish, eggs, chicken and milk.
I think you can see the trend by reading through this list of vitamins that aid in hair re-growth. Plenty of fruits, vegetable, nuts, whole grains, eggs and poultry will supply most of the vitamins that are essential for maintaining proper nutrition for your hair to remain healthy and re-grow as well.